Aims and Scope
Narendra Kumar Papathoti, Dusadee Kiddeejing, Jayasimha Rayulu Daddam, Toan Le Thanh, Natthiya Buensanteai
---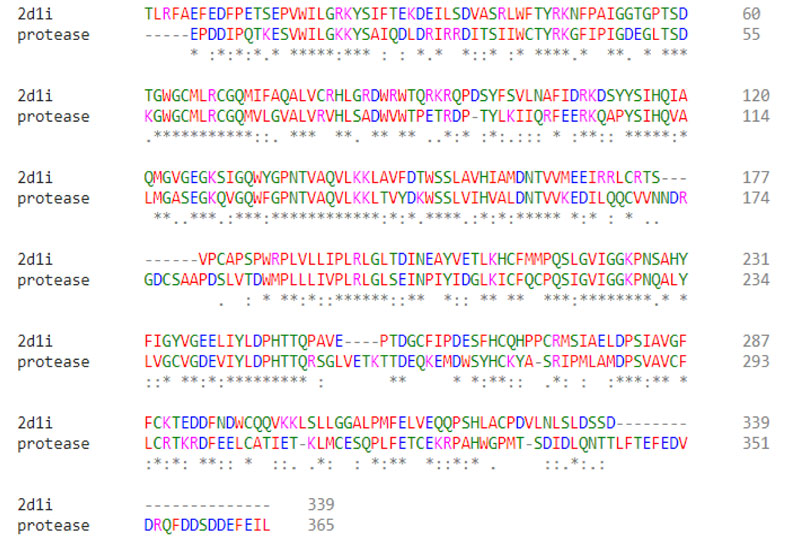 Objective:
Spodoptera litura, otherwise known as cutworm, belongs to the Noctuidae tribe, which is a severe scourge for numerous crop systems and is considered one of Asian tropical agriculture's most important insects. The world's leading environmental threats are plant pests, and the already commercialized pesticides are extremely poisonous and non-biodegradable and maybe additional residues harmful to the ecosystem. The increased resistance in pests often demands the need for advanced, active pesticides that are environmentally friendly and biodegradable.
Methods:
In the current work, the significance of proteases for the Spodoptera litura digestive system has been determined by the use of microbial metabolite protease inhibitor (Iturin A) in silico models. In the present study, we developed a model based on sequence structural alignment of known crystal structure 2D1I protease from Homo sapiens. The model's reliability evaluation was performed using programs such as PROCHECK, WHAT IF, PROSA, Validate 3D, ERRAT, etc.
Results:
In an attempt to find new inhibitors for Protease docking, the study was carried out with Iturin A. PMDB ID for the produced protease model was submitted to identify new inhibitors for Protease docking, and its accession number is PM0082285. The detailed study of enzyme-inhibitor interactions identified similar core residues; GLU215, LEU216, LYS217, and GLU237 have demonstrated their role in the binding efficacy of ligands.
Conclusion:
The latest homology modeling and docking experiments on the protease model will provide useful insight knowledge for the logical approach of constructing a wide spectrum of novel insecticide against Spodoptera.
---
December 23, 2020
Ebenezer S. Owusu Adjah, Olga Montvida, Julius Agbeve, Sanjoy K. Paul
---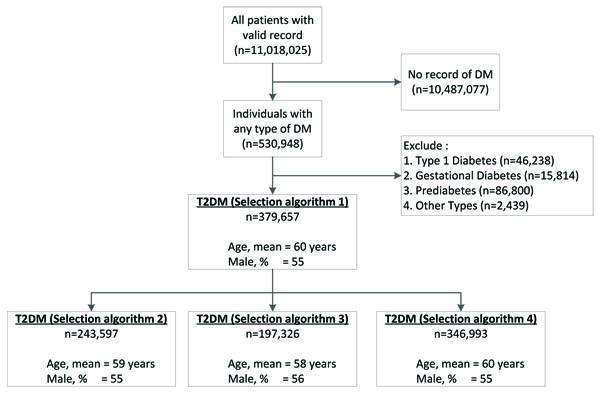 Background:
Identification of diseased patients from primary care based electronic medical records (EMRs) has methodological challenges that may impact epidemiologic inferences.
Objective:
To compare deterministic clinically guided selection algorithms with probabilistic machine learning (ML) methodologies for their ability to identify patients with type 2 diabetes mellitus (T2DM) from large population based EMRs from nationally representative primary care database.
Methods:
Four cohorts of patients with T2DM were defined by deterministic approach based on disease codes. The database was mined for a set of best predictors of T2DM and the performance of six ML algorithms were compared based on cross-validated true positive rate, true negative rate, and area under receiver operating characteristic curve.
Results:
In the database of 11,018,025 research suitable individuals, 379 657 (3.4%) were coded to have T2DM. Logistic Regression classifier was selected as best ML algorithm and resulted in a cohort of 383,330 patients with potential T2DM. Eighty-three percent (83%) of this cohort had a T2DM code, and 16% of the patients with T2DM code were not included in this ML cohort. Of those in the ML cohort without disease code, 52% had at least one measure of elevated glucose level and 22% had received at least one prescription for antidiabetic medication.
Conclusion:
Deterministic cohort selection based on disease coding potentially introduces significant mis-classification problem. ML techniques allow testing for potential disease predictors, and under meaningful data input, are able to identify diseased cohorts in a holistic way.
---
December 12, 2017