Aims and Scope
Yanjuan Jia, Lei Chen, Jian-Peng Zhou, Min Liu
---
Background:
Metabolic pathway is one of the most basic biological pathways in living organisms. It consists of a series of chemical reactions and provides the necessary molecules and energies for organisms. To date, lots of metabolic pathways have been detected. However, there still exist hidden participants (compounds and enzymes) for some metabolic pathways due to the complexity and diversity of metabolic pathways. It is necessary to develop quick, reliable, and non-animal-involved prediction model to recognize metabolic pathways for any compound.
Methods:
In this study, a multi-label classifier, namely iMPT-FRAKEL, was developed for identifying which metabolic pathway types that compounds can participate in. Compounds and 12 metabolic pathway types were retrieved from KEGG. Each compound was represented by its fingerprints, which was the most widely used form for representing compounds and can be extracted from its SMILES format. A popular multi-label classification scheme, Random k-Labelsets (RAKEL) algorithm, was adopted to build the classifier. Classic machine learning algorithm, Support Vector Machine (SVM) with RBF kernel, was selected as the basic classification algorithm. Ten-fold cross-validation was used to evaluate the performance of the iMPT-FRAKEL. In addition, a web-server version of such classifier was set up, which can be assessed at http://cie.shmtu.edu.cn/impt/index.
Results:
iMPT-FRAKEL yielded the accuracy of 0.804, exact match of 0.745 and hamming loss of 0.039. Comparison results indicated that such classifier was superior to other models, including models with Binary Relevance (BR) or other classification algorithms.
Conclusion:
The proposed classifier employed limited prior knowledge of compounds but gives satisfying performance for recognizing metabolic pathways of compounds.
---
August 18, 2020
Ebenezer S. Owusu Adjah, Olga Montvida, Julius Agbeve, Sanjoy K. Paul
---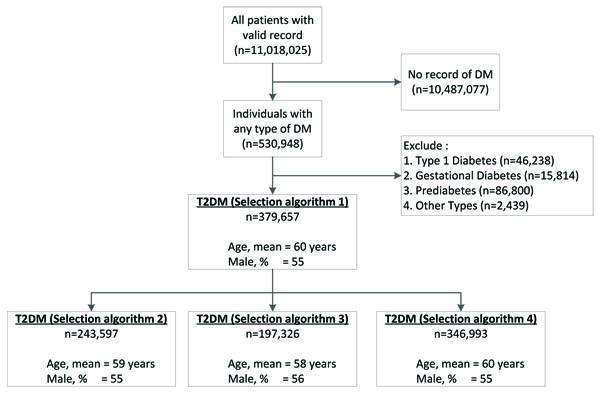 Background:
Identification of diseased patients from primary care based electronic medical records (EMRs) has methodological challenges that may impact epidemiologic inferences.
Objective:
To compare deterministic clinically guided selection algorithms with probabilistic machine learning (ML) methodologies for their ability to identify patients with type 2 diabetes mellitus (T2DM) from large population based EMRs from nationally representative primary care database.
Methods:
Four cohorts of patients with T2DM were defined by deterministic approach based on disease codes. The database was mined for a set of best predictors of T2DM and the performance of six ML algorithms were compared based on cross-validated true positive rate, true negative rate, and area under receiver operating characteristic curve.
Results:
In the database of 11,018,025 research suitable individuals, 379 657 (3.4%) were coded to have T2DM. Logistic Regression classifier was selected as best ML algorithm and resulted in a cohort of 383,330 patients with potential T2DM. Eighty-three percent (83%) of this cohort had a T2DM code, and 16% of the patients with T2DM code were not included in this ML cohort. Of those in the ML cohort without disease code, 52% had at least one measure of elevated glucose level and 22% had received at least one prescription for antidiabetic medication.
Conclusion:
Deterministic cohort selection based on disease coding potentially introduces significant mis-classification problem. ML techniques allow testing for potential disease predictors, and under meaningful data input, are able to identify diseased cohorts in a holistic way.
---
December 12, 2017