Aims and Scope
Felipe Rojas-Rodríguez, Carlos Morantes, Andrés Pinzón, George E. Barreto, Ricardo Cabezas, Leonardo Mariño-Ramírez, Janneth González
---
Aims:
Present a novel machine learning computational strategy to predict the neuroprotection potential of nicotine analogs acting over the behavior of unpaired signaling pathways in Parkinson's disease.
Background:
Dopaminergic replacement has been used for Parkinson's Disease (PD) treatment with positive effects on motor symptomatology but low progression and prevention effects. Epidemiological studies have shown that nicotine consumption decreases PD prevalence through neuroprotective mechanisms activation associated with the overstimulation of signaling pathways (SP) such as PI3K/AKT through nicotinic acetylcholine receptors (e.g α7 nAChRs) and over-expression of anti-apoptotic genes such as Bcl-2. Nicotine analogs with similar neuroprotective activity but decreased secondary effects remains as promissory field.
Objective:
Develop an interdisciplinary computational strategy predicting the neuroprotective activity of a series of 8 novel nicotine analogs over Parkinson's disease.
Methods:
We present a computational strategy integrating structural bioinformatics, SP manual reconstruction, and deep learning to predict the potential neuroprotective activity of 8 novel nicotine analogs over the behavior of PI3K/AKT. We performed a protein-ligand analysis between nicotine analogs and α7 nAChRs receptor using geometrical conformers, physicochemical characterization of the analogs and developed a manually curated neuroprotective datasets to analyze their potential activity. Additionally, we developed a predictive machine-learning model for neuroprotection in PD through the integration of Markov Chain Monte-Carlo transition matrix for the 2 SP with synthetic training datasets of the physicochemical properties and structural dataset.
Results:
Our model was able to predict the potential neuroprotective activity of seven new nicotine analogs based on the binomial Bcl-2 response regulated by the activation of PI3K/AKT.
Conclusion:
Hereby, we present a robust novel strategy to assess the neuroprotective potential of biomolecules based on SP architecture. Our theoretical strategy can be further applied to the study new treatments related with SP deregulation and may ultimately offer new opportunities for therapeutic interventions in neurodegenerative diseases.
---
March 20, 2020
Ebenezer S. Owusu Adjah, Olga Montvida, Julius Agbeve, Sanjoy K. Paul
---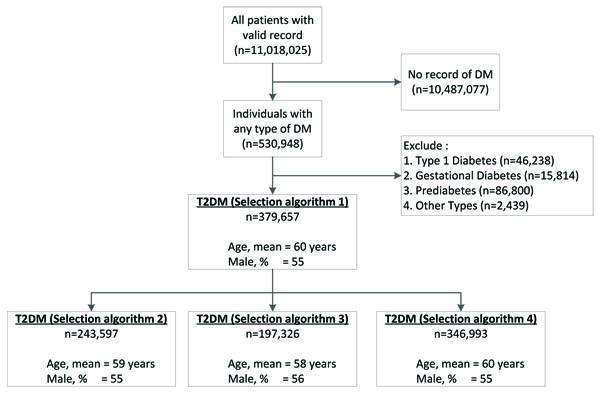 Background:
Identification of diseased patients from primary care based electronic medical records (EMRs) has methodological challenges that may impact epidemiologic inferences.
Objective:
To compare deterministic clinically guided selection algorithms with probabilistic machine learning (ML) methodologies for their ability to identify patients with type 2 diabetes mellitus (T2DM) from large population based EMRs from nationally representative primary care database.
Methods:
Four cohorts of patients with T2DM were defined by deterministic approach based on disease codes. The database was mined for a set of best predictors of T2DM and the performance of six ML algorithms were compared based on cross-validated true positive rate, true negative rate, and area under receiver operating characteristic curve.
Results:
In the database of 11,018,025 research suitable individuals, 379 657 (3.4%) were coded to have T2DM. Logistic Regression classifier was selected as best ML algorithm and resulted in a cohort of 383,330 patients with potential T2DM. Eighty-three percent (83%) of this cohort had a T2DM code, and 16% of the patients with T2DM code were not included in this ML cohort. Of those in the ML cohort without disease code, 52% had at least one measure of elevated glucose level and 22% had received at least one prescription for antidiabetic medication.
Conclusion:
Deterministic cohort selection based on disease coding potentially introduces significant mis-classification problem. ML techniques allow testing for potential disease predictors, and under meaningful data input, are able to identify diseased cohorts in a holistic way.
---
December 12, 2017